Pendley Heating & Air Conditioning Inc. Services for Cartersville, GA and Surrounding Areas
Pendley people care, so when you're searching for an HVAC contractor you can trust with your heating and cooling system you can trust that we'll be there for you. If we don't take care of the customer, someone else will. You shouldn't be suffering through a Georgian summer without an AC or heat pump. Unfortunately, many homeowners break a sweat at the thought of having to call someone to repair, replace or maintain their HVAC system. At Pendley Heating & Air Conditioning, Inc., we carry more than half a century's worth of experience and credentials in our toolbox when you welcome us into your home or business.
Whether it's for an emergency AC repair, heat pump replacement, or heater maintenance, you can depend on our team of certified service technicians to treat your HVAC system as if it belonged to the mayor of Cartersville. That's why the team at Pendley Heating & Air Conditioning, Inc. works by the company motto, "If we don't take care of the customer, someone else will." We treat every customer as if the success of our business depends on his or her 100-percent satisfaction, because it does.
Trane-d for Professional HVAC Perfection
Since most HVAC contractors fail to earn the distinction, Pendley Heating & Air Conditioning, Inc. is also proud to proclaim that we're a Trane Comfort Specialist. This means that our team has adhered to a strict set of standards set by one of the industry's leaders and continues to prove its commitment to excellence. When you entrust a Trane Comfort Specialist with your HVAC system, you should expect to:
Receive access to Trane's state-of-the-art heating and air products
Welcome a NATE-certified service technician into your home or business
Experience customer satisfaction throughout every step of the process
WHAT OUR CUSTOMERS ARE SAYING
We had Pendley change out our heating and air system with a new Trane system we went with the 16 seer dual fuel system could not be more pleased our city utility bill has gone down the rebate for the unit covered half the cost and you get a tax credit for energy saving could […]
Read More
Pendley recently replaced our old heat pump with a 20XVi variable system and a 4 zone air handler. The house is much more comfortable and we have realized savings already. Our power usage is down 23% from June of 2013; down 42% from June of 2012; and 38% from June of 2011. The staff did […]
Read More
Full-Service HVAC Company Serving Northwest Georgia
With so many heating and air companies competing for customers, becoming northwest Georgia's go-to HVAC contractor hasn't been easy. In our 50-plus years of service, Pendley Heating & Air Conditioning, Inc., has had its fair share of growing pains. Our team has persevered, though, and today we're proud of the customer service experience and the workmanship we provide to those in the Peach State. From the moment you contact us to the time we complete the AC repair or other HVAC service, you can expect our team to make your comfort its prime priority.
Our HVAC services include but aren't limited to:
Residential AC installations and repairs
Residential heating installations and repairs
Commercial HVAC services
Indoor air quality services
Duct cleaning services
Ductless mini-split services
Preventive maintenance agreements
100% customer satisfaction guarantee
Warranty on all work for first year
Emergency AC and heating repairs

PROUDLY SERVING CARTERSVILLE, GA AND SURROUNDING AREAS IN NORTHWEST GEORGIA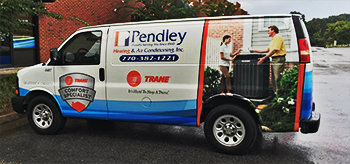 Click Here to Close the Google Maps Overlay
Although our headquarters is based in Cartersville, we also serve the following areas in Georgia
Adairsville
Acworth
Canton
Cartersville
Cedartown
Emerson
Euharlee
Kingston
Rydal
Rome
Taylorsville
White
VIEW OUR LATEST POSTS
Read our latest blog posts to learn more about heating, ventilation, and air conditioning issues in your home or business.
The nights are chilly, and you're looking forward to turning the furnace on in your Rome, Georgia, home. Then you realize something is wrong with it and wonder what's happening. Read on to learn three common furnace problems, what they mean, and how you can resolve...
The air conditioner in your Cartersville, Georgia, home works hard all summer long. Over time, pollutants like dust, pollen, biological growth, and pet dander will accumulate in your ductwork. As a result, they'll keep your HVAC system from working at peak efficiency....